5 ESSENTIAL PLACES TO VISIT IN THAILAND
There are many essential places to visit in Thailand, a perfect country to have a first contact with what is considered a backpackers' paradise; Southeast Asia.

In Thailand, the country of smiles, you will find the exoticism of those who seek something different from their comfortable surroundings, a delicious gastronomy, in which Pad Thai is its star dish, landscapes in which rivers, mountains, waterfalls and valleys converge, Temples and ancient cities, the hospitality of its people, and as the icing on the cake, paradisiacal beaches and islands, bathed by turquoise waters, which we are sure, will be the best ending you have ever imagined for your trip.
The best time to travel to Thailand is between November and March, when the temperatures are pleasant and the landscapes shine in all their splendor. And although we cannot say that there is any bad time to travel to this country, if you do not want to run into the rain, try to avoid traveling during the monsoon, from July to October, when the rains can make you miss a day of travel.
1. Bangkok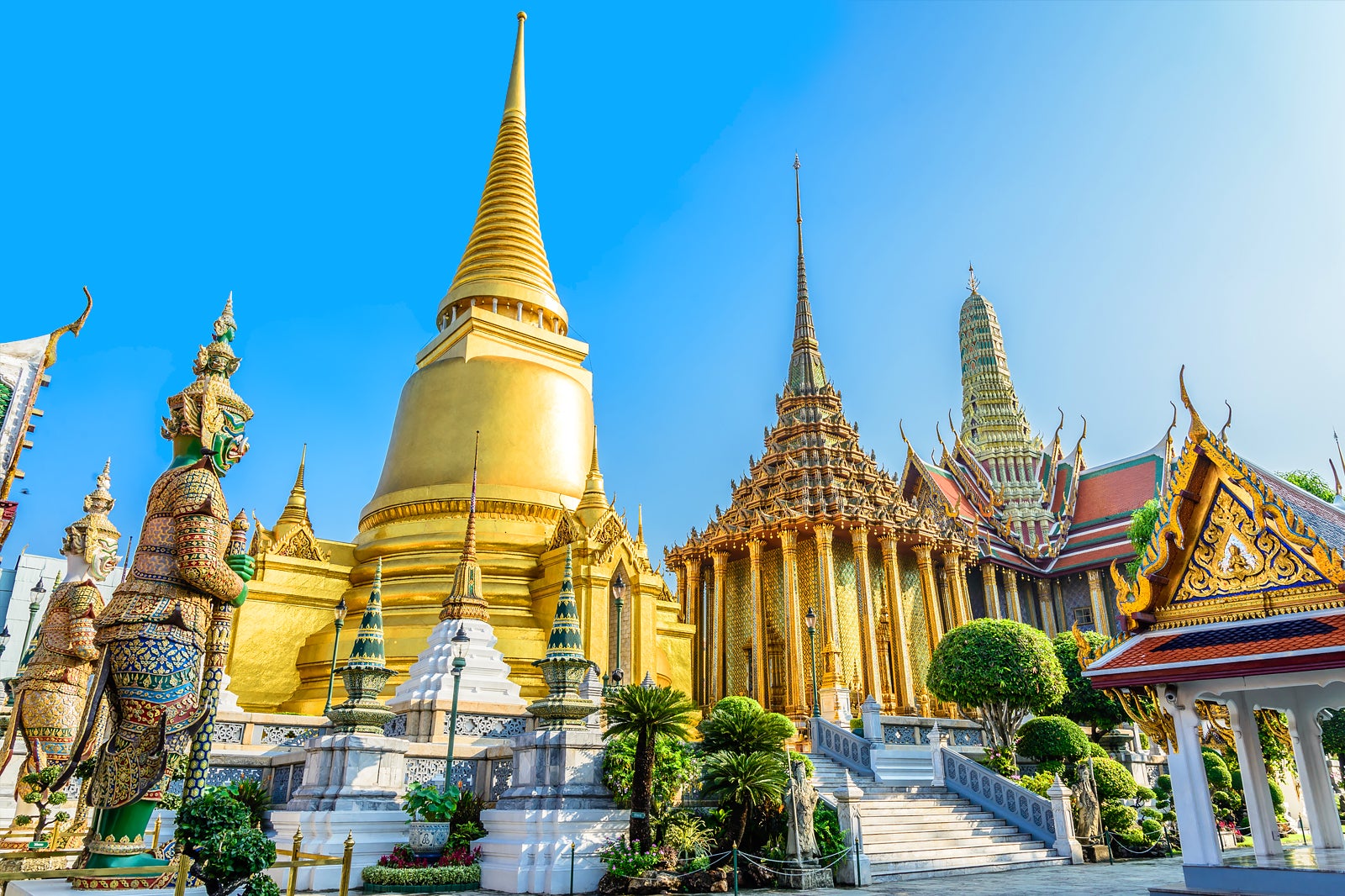 Bangkok, the capital of Thailand, is a city that does not fall in love at first sight, probably because of its eternal pollution, chaotic traffic and practically constant humidity.
Although we assure you that it is worth giving it a try. As you start walking through its streets, getting lost in the markets, visiting the incredible temples, seeing their culture and way of life, you will begin to find an order in that very personal chaos to end up wishing to stay more days.
The city, in addition to being one of the most essential places to visit in Thailand, is the perfect place to have that first contact with Southeast Asia, as it has more western infrastructures than its neighboring countries and preserves a large part of its traditions. Oriental.
Some of the best places to see in Bangkok are The Grand Palace, Chatuchak Market, Khao San Road, the Chao Phraya river klongs, Wat Pho and Wat Arun temples, Chinatown at night and views of the City ​​from some of its viewpoints such as the Bayoke Tower or Sirocco.
2. Chiang Mai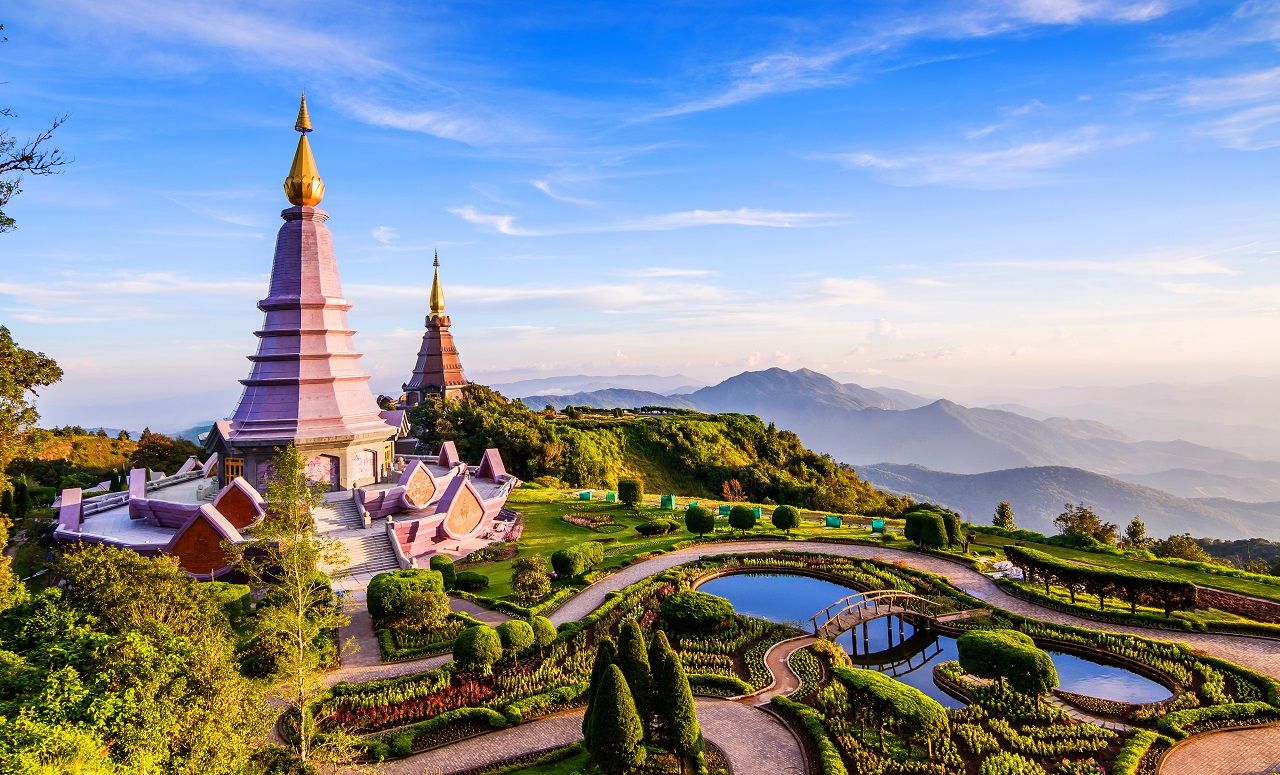 Chiang Mai, the capital of the north and another of the best places to visit in Thailand, brings together everything a traveler dreams of finding in a magical environment, full of nature. In this city and its surroundings, you will see incredible Buddhist temples and palaces, you will trek through mountains, rivers and jungle, in addition to buying bargains and local crafts in markets, some of them at night, while you do not stop enjoying the gastronomy in designed places Trendy, or relax with a Thai massage.
One of the most famous excursions in Chiang Mai is the Doi Inthanon National Park, located at the highest point in the country, where you can see beautiful temples, waterfalls and impressive vegetation.
In addition to these temples to see in and around Chiang Mai, it is worth climbing to the sacred mountains of Doi Suthep and Doi Pui, where there is a beautiful temple and a village of the Hmong tribe.
Two of the best-known activities that many companies will offer you are doing a route on the back of an elephant or visiting giraffe women. We understand that this is very personal, but they are two experiences that we do not recommend due to the cruel treatment they give to animals and women.
If you don't travel by train or bus from Bangkok to northern Thailand, the best way to get to Chiang Mai is with one of the many daily flights that leave from Bangkok. The journey is one hour. When you arrive at the airport you can take a bus or a taxi that will take you to the city. To visit the places furthest from the capital, if you don't want to rent a motorcycle or car, you can take a taxi or a tuk tuk. Whenever you stop a taxi or a tuk tuk, fix a price beforehand.
3. Phi Phi Islands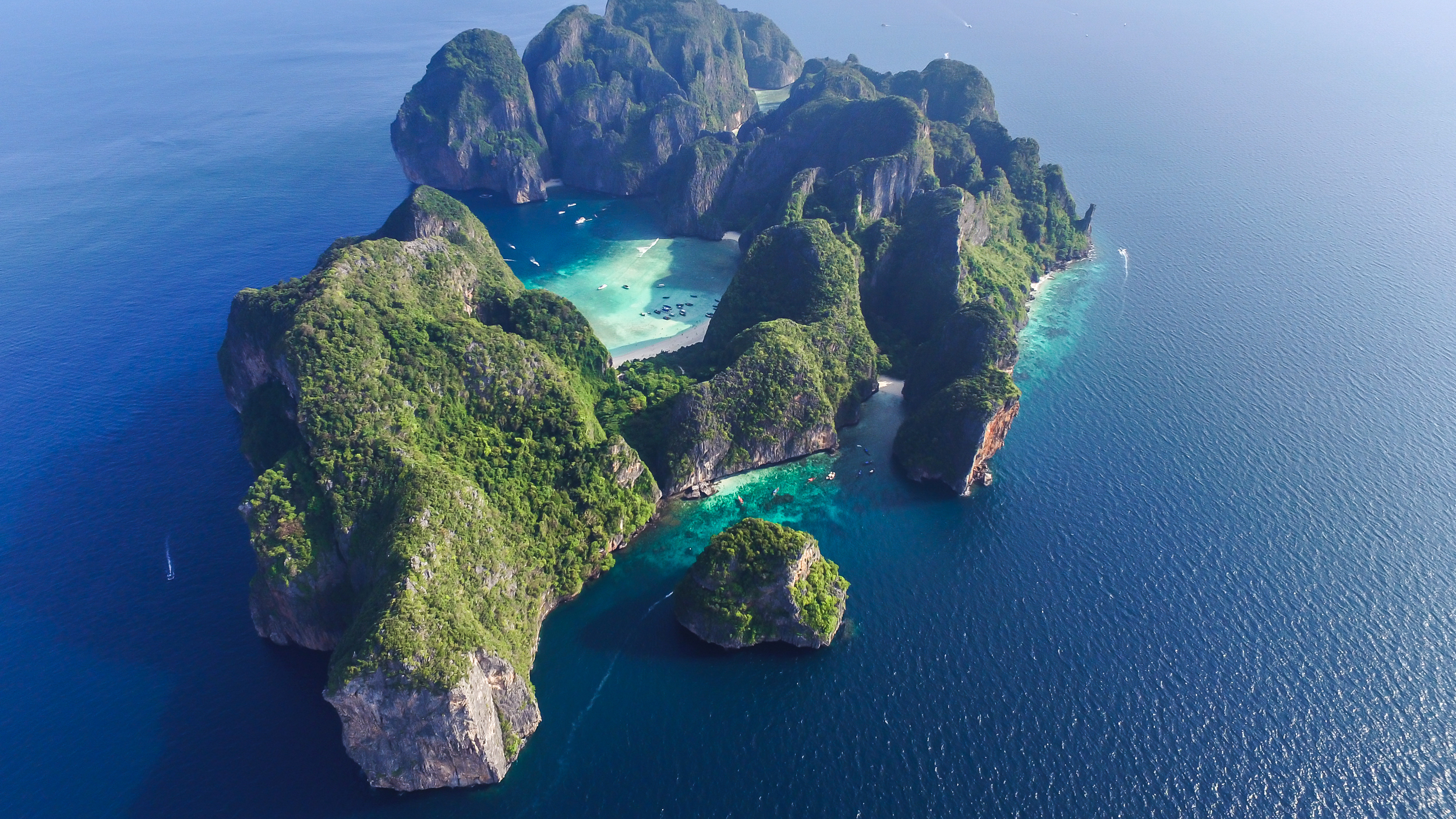 The Phi Phi Islands, located in an archipelago in the Andaman Sea, are the best known and another of the essential places to see in Thailand. These four islands, Koh Phi Phi Don, Koh Phi Phi Leh, Koh Pai or Bamboo Island and Koh Yung or Mosquito Island, stand out for their paradisiacal beaches and their transparent turquoise waters, which became extremely famous when the movie La Leonardo Di Caprio beach in Maya Bay, located on the island of Koh Phi Phi Leh.
Being very touristy, this beach, considered one of the most beautiful in the world, is recommended to visit it first thing in the day, negotiating with a local boatman or at sunset so as not to find yourself surrounded by thousands of tourists.
Two islands with quieter beaches are Koh Pai and Koh Yung, while the largest island, Koh Phi Phi Don, is where the hotel infrastructure and restaurants are located and where you can enjoy a lively nightlife, especially in the area of Tonsai Beach.
If you want to stay on this island, but you are looking for tranquility, the best thing is to stay in Loh Dalum Bay, much more quiet. In addition, in Koh Phi Phi Don you can hire excursions for diving or climbing and visit beautiful places such as Phi Phi View Point, Long Beach and Monkey Beach.
The best way to get to the Phi Phi Islands is on a speedboat tour from Krabi, Phuket, or Koh Lanta. Another option is to arrive by ferry from these 3 places and stay in Koh Phi Phi Don to visit these beautiful islands with more time.
4. Sukhothai, one of the places to visit in Thailand

Located between Bangkok and Chiang Mai, is the Sukhothai Historical Park, another of the essential places to see in Thailand. These ruins located about 12 kilometers from the current city of Sukhothai, were during the 13th and 14th centuries, capital of the kingdom of present-day Thailand.
The main temples and places to see in Sukhothai, a World Heritage Site, such as Wat Mahathat, Wat Trapang Thong, Wat Si Siwai, Wat Si Hong, Wat Si Sai and Wat Shapan Hin, are located within a walled enclosure of 3 square kilometers.
In addition to the above, we recommend you not to miss other interesting temples such as Wat Si Chum and Wat Phra Luang, which being further away, to get to know them, it is almost a must to rent a bike or a tuk tuk.
We arrived in this historic city on a route from Bangkok to Chiang Mai combining train and bus. Note that even though Sukhothai doesn't have a train station, you can get there by bus from the nearby town of Phitsanulok in an hour. Once you are in the city you can rent a tuk tuk to bring you closer to the ruins and even for the whole day, to visit them in a more comfortable way.
5. Koh LiPe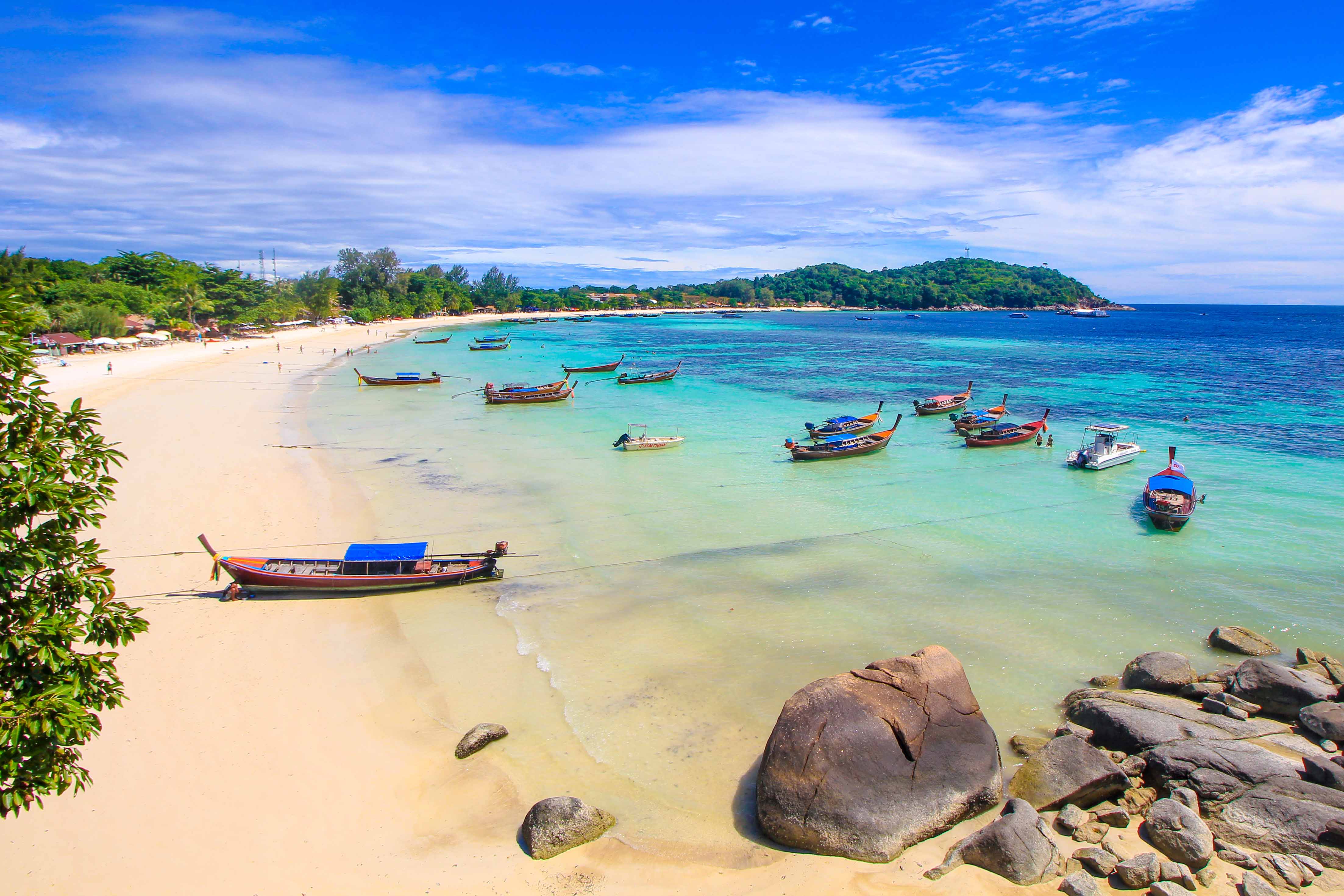 Koh LiPe, a small island located in the south of the Andaman Sea, is another of the paradises and places to see in Thailand. Known as the Thai Maldives, on this island you can still find some tranquility on its white sand beaches and transparent turquoise waters.
Although inevitably, the growth of tourism in recent years, especially between the months of November to May, has also increased the offer in restaurants and hotels, so that little by little, that tranquility seems to be being lost or transformed.
One of the best things to do in Koh Lipe, in addition to relaxing on its beaches, snorkeling, kayaking or scuba diving, taking a boat trip to its neighboring islands or enjoying Thai food based on fish and seafood, you can enjoy Incredible walks, being an island of small dimensions, being able to reach most places on foot such as the beaches of Sunrise, Pattaya and Sunset.
The best way to get to Koh Lipe, another of the places to visit in Thailand, is by plane, reaching the airports of Hat Yai and Trang. Something interesting is to know that with the airlines Airasia or Nok Air, transfers by van and boat to get to Koh Lipe can be included in the flights. If you go on your own, you have to get to the Pak Bara pier to get a ticket on one of the boats, the journey to the island takes less than 2 hours.